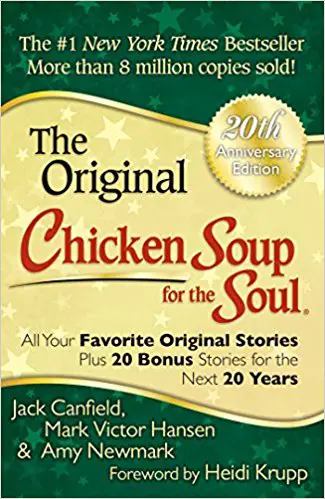 ¡Esperamos que te encanten los libros que la gente recomienda! Para su información, The CEO Library puede cobrar una parte de las ventas u otra compensación de los enlaces en esta página.
Este libro tiene 1 recomendación.
alan pierce (CEO/Ansuz Balder Magni Inversiones)
A feel-good book that is great to read when sometimes we get to busy and lose sight of the truly important things in life, like family, children, close friends, health and the basic living necessities; things that we should always be thankful for.
The twentieth anniversary edition of the original Chicken Soup for the Soul is brimming with even more hope and inspiration - the stories you've always loved, plus bonus stories, plus 20 bonus stories from today's thought leaders.
Twenty years later, Chicken Soup for the Soul continues to open the heart and rekindle the spirit. Celebrate the twentieth anniversary with the classic book that inspired millions -- reinvigorated with bonus stories of inspiration! You will find hope and inspiration in these 101 heartwarming stories about counting your blessings, thinking positive, and overcoming challenges.
Obtenga este libro en Amazonas | Barnes & Noble | Depósito de libros | iBooks
Ver más libros recomendados por
Ver más libros escritos por
jack canfield, Mark Víctor Hansen, Amy Newmark
Fuentes