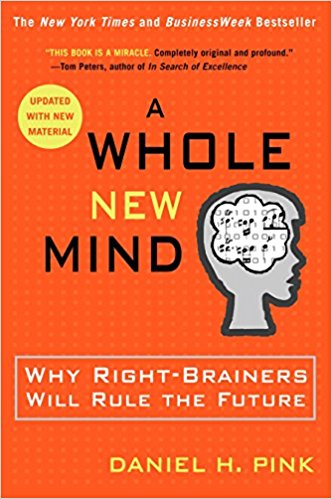 Nous espérons que vous aimez les livres que les gens recommandent ! Juste pour que vous le sachiez, The CEO Library peut collecter une part des ventes ou une autre compensation à partir des liens sur cette page.
Ce livre a 1 recommandation
Parc Howell (Fondateur/The Business of Story)
C'est l'un des livres que je recommande aux personnes à la recherche d'une carrière dans la publicité.
"The future belongs to a different kind of person with a different kind of mind: artists, inventors, storytellers-creative and holistic ""right-brain"" thinkers whose abilities mark the fault line between who gets ahead and who doesn't.
Drawing on research from around the world, Pink (author of To Sell Is Human: The Surprising Truth About Motivating Others) outlines the six fundamentally human abilities that are absolute essentials for professional success and personal fulfillment--and reveals how to master them. A Whole New Mind takes readers to a daring new place, and a provocative and necessary new way of thinking about a future that's already here."
Obtenez ce livre sur Amazone | Barnes & Nobles | Dépôt de livres | iBook
Voir plus de livres recommandés par
Voir plus de livres écrits par
Sources