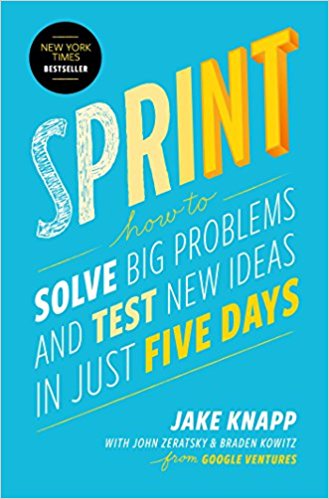 Nous espérons que vous aimez les livres que les gens recommandent ! Juste pour que vous le sachiez, The CEO Library peut collecter une part des ventes ou une autre compensation à partir des liens sur cette page.
Ce livre a 3 recommandations
Eric Ries (Fondateur/Bourse Long Terme)
A fantastic, proven formula for moving from idea to prototyping to decision making within five days, based on a process he developed while working at Google and later GV.
Javed Khatri (Co-fondateur et Chief Everything Officer/Kustard)
This book details the "sprint" process used at Google Ventures. We follow a similar process at Kustard to validate business ideas and to solve problems without wasting much time, money and energy. If you want to quickly validate an idea, this is a proven model and a must read.
Cat Williams-Treloar (Founder/Humanisation)
Jake Knapp, John Zeratsky & Braden Kowitz "Sprint" - the go-to guide on how to sprint. You may not follow everything to the tee, but it's simple, clean and full of great examples of how to move fast with structure.
"Sprint offers a transformative formula for testing ideas that works whether you're at a startup or a large organization. Within five days, you'll move from idea to prototype to decision, saving you and your team countless hours and countless dollars. A must read for entrepreneurs of all stripes." —Eric Ries, author of The Lean Startup
From three partners at Google Ventures, a unique five-day process for solving tough problems, proven at more than a hundred companies.
Entrepreneurs and leaders face big questions every day: What's the most important place to focus your effort, and how do you start? What will your idea look like in real life? How many meetings and discussions does it take before you can be sure you have the right solution?
Now there's a surefire way to answer these important questions: the sprint. Designer Jake Knapp created the five-day process at Google, where sprints were used on everything from Google Search to Google X. He joined Braden Kowitz and John Zeratsky at Google Ventures, and together they have completed more than a hundred sprints with companies in mobile, e-commerce, healthcare, finance, and more.
A practical guide to answering critical business questions, Sprint is a book for teams of any size, from small startups to Fortune 100s, from teachers to nonprofits. It's for anyone with a big opportunity, problem, or idea who needs to get answers today.
Obtenez ce livre sur Amazone | Barnes & Nobles | Dépôt de livres | iBook
Voir plus de livres recommandés par
Eric Ries, Javed Khatri, Cat Williams-Treloar
Voir plus de livres écrits par
Jake Knapp, John Zeratsky, Braden Kowitz
Sources