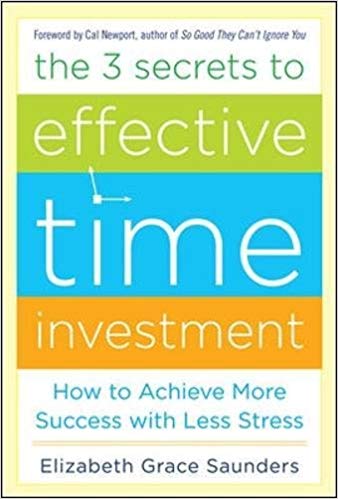 Nous espérons que vous aimez les livres que les gens recommandent ! Juste pour que vous le sachiez, The CEO Library peut collecter une part des ventes ou une autre compensation à partir des liens sur cette page.
Ce livre a 1 recommandation
Cal Newport (Auteur)
Elizabeth runs a successful consulting business that helps people make more meaningful use of their time. If you're looking to focus less on the unimportant and more on what really matters, this book offers tested advice for achieving this goal.
Quick Reference Guide included with over 30 online tools and 40 done-for-you routines
Is it possible to keep up on life, let alone enjoy it, when you're overloaded and overwhelmed--with work, with errands, with emails and texts, and with relationship responsibilities? You get things done, but do you get them done well? Do you have enough time for other people--and for yourself?
The 3 Secrets to Effective Time Investment takes you beyond simple time management to provide you with the skills and outlook you need to completely revamp the quality of your life. You'll learn how to reorient your mindset and use simple routines to accomplish more than you ever dreamed possible.
Packed with tips and advice about how to overcome crippling emotions like guilt, let go of the compulsion to be perfect, and overcome the most common obstacles to a life well managed, this powerful, holistic, total-life guide is founded on three powerful principles:
Secret #1: Clarify Action-Based Priorities
Determine what's most important to you and define exactly what you will do to invest in those priorities
Secret #2: Set Realistic Expectations
Shift expectations of yourself and others from the realm of the ideal to the realm of the possible
Secret #3: Strengthen Simple Routines
Develop healthy habits so the flow of your life moves effortlessly toward your highest goals
A renowned authority in her field, Elizabeth Grace Saunders illustrates exactly how her methods work through case studies of time-coaching clients, and she provides a quick-reference guide of real-life example routines on everything from exercising regularly to moving forward on a dreaded project.
The 3 Secrets to Effective Time Investment does more than help you make the best of the time you have. It gives you the tools, insight, and guidance you need to overhaul your entire life.
Obtenez ce livre sur Amazone | Barnes & Nobles | Dépôt de livres | iBook
Voir plus de livres recommandés par
Voir plus de livres écrits par
Sources