Bill Gates – summer recommended reading
Bill Gates is one of the world's most famous business leaders, co-founder of Microsoft, a philanthropist, and… an avid reader.
He considers reading to be one of the habits that contributed most to his success, he's known for regularly taking vacations with the explicit purpose of reading and learning, and he's also a close friend of Warren Buffett – another famous reader. 😛
A few years ago, he started a blog where he occasionally reviews the best books he reads. He's now one of the top three leaders with most book recommendations on The CEO Library!
At the beginning of every summer, he takes his time to write a blog article with the best books he recommends as summer reading. Well, now's that time of the year 😀
Here are 5 books Bill Gates recommends us for the summer of 2019 (four of them are non-fiction, one is fiction).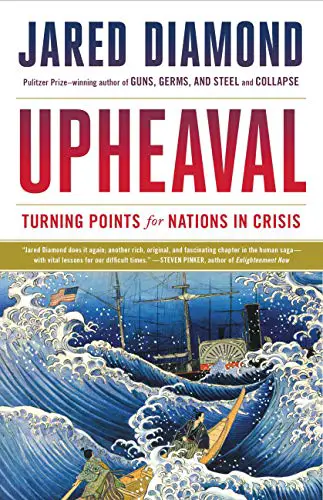 1. Upheaval: Turning Points for Nations in Crisis, by Jared Diamond
You probably heard about Jared Diamond's previous international bestsellers, "Guns, Germs, and Steel" and "Collapse", where the Pulitzer-winning author transformed readers' understanding of what makes civilizations rise and fall. "Upheaval", his new book and the third in this trilogy, reveals how successful nations recover from trauma, while others don't.
Diamond compares how six countries have survived recent upheavals, how they coped with it, and what we can learn from them (from Japan's forced opening, to Soviet Union's attack on Finland, the transformations of Germany and Austria after WW2, and the murderous coup or counter coup in Chile and Indonesia).
He also talks about the fundamental problem threatening the US democracy, the accelerated deterioration of political compromise, and how we can cope with these big challenges and learn from the lessons of the past.
This book is highly recommended by Bill Gates (he even dedicated a blog article to it), but also by authors and professors Yuval Noah Harari and Steven Pinker.
2. Nine Pints: A Journey Through the Money, Medicine, and Mysteries of Blood, by Rose George
For last year's summer reading, Bill Gates recommended "Bad Blood", a book that covers the story of Silicon Valley blood-diagnostics company Theranos and Elizabeth Holmes (its founder), and the scandal surrounding its rise and fall.
This year, he recommends another book on the subject of blood: "Nine Pints" (the title refers to the volume of blood in an average adult), written by Rose George is a British non-fiction author and journalist who writes about subjects that are hidden, taboo, ignored or misunderstood.
To research this book, she traveled all around the world. The author helps us understand how our blood supply work, why menstrual blood is still a taboo and girls are ostracized for having periods, how modern trauma care is maybe using the wrong kind of blood, why leeches are still found in hospital pharmacies, and more.
Here's what Bill Gates said about it: "Nine Pints may not sound like a typical light summer book. But George is a great reporter and writer who makes it easy to follow along. And I think everyone wants to know at least a little more about this topic. After all, there is nothing that more people have in common than blood."
3. The Future of Capitalism: Facing the New Anxieties, by Paul Collier
Paul Collier is a British economist who serves as Professor of Economics and Director of the Centre for the Study of African Economies at Oxford University. His latest book is a candid diagnosis of the failures of capitalism, the polarization and inequity it causes. Drawing on his own solutions and those from some of the world's most distinguished social scientists, he presents a pragmatic and realistic vision of how we can repair the capitalist system.
Bill Gates said that although he doesn't agree with Collier about everything, he's on the same page with the author when he says that "capitalism needs to be managed, not defeated", and ends his review by saying that: "we should do more to curb its excesses and minimize its negative aspects. But no other system comes close to delivering the innovations and economic growth that capitalism has sparked around the world. This is worth remembering as we consider its future."
4. Presidents of War, by Michael Beschloss
After ten years of research and writing, presidential historian (and author of nine books on the subject) Michael Beschloss presents in "Presidents of War" a saga of America's wartime chief executives. This book is a look at the American leaders as they took the nation into conflict and mobilized the country for victory, the physical and emotional pressures, and how they struggled with the decision-making process.
Gates says that: "It is hard to read about today's conflicts without thinking about how they might connect to the past and what impact they might have on the future. Presidents of War is worth reading, whether you are one of the nation's leaders or just an armchair historian.".
This book is also recommended by Tom Hanks (yeap, THE Tom Hanks).
5. A Gentleman in Moscow: A Novel, by Amor Towles
The only fiction book from the list, presented by Bill Gates under the blurb:
"It seems like everyone I know has read this book. I finally joined the club after my brother-in-law sent me a copy, and I'm glad I did. Towles's novel about a count sentenced to life under house arrest in a Moscow hotel is fun, clever, and surprisingly upbeat. Even if you don't enjoy reading about Russia as much as I do (I've read every book by Dostoyevsky), A Gentleman in Moscow is an amazing story that anyone can enjoy."
If you want to see more books recommended by Bill Gates, you'll find a list here.