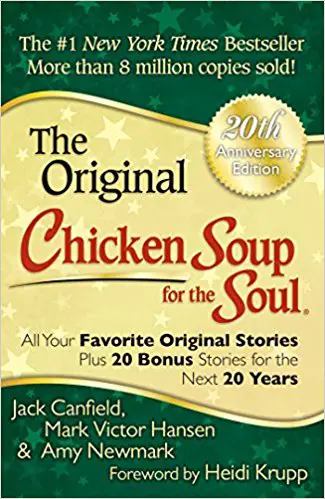 We hope you love the books people recommend! Just so you know, The CEO Library may collect a share of sales or other compensation from the links on this page.
This book has 1 recommendation
Alan Pierce (CEO/Ansuz Balder Magni Investments)
A feel-good book that is great to read when sometimes we get to busy and lose sight of the truly important things in life, like family, children, close friends, health and the basic living necessities; things that we should always be thankful for.
The twentieth anniversary edition of the original Chicken Soup for the Soul is brimming with even more hope and inspiration - the stories you've always loved, plus bonus stories, plus 20 bonus stories from today's thought leaders.
Twenty years later, Chicken Soup for the Soul continues to open the heart and rekindle the spirit. Celebrate the twentieth anniversary with the classic book that inspired millions -- reinvigorated with bonus stories of inspiration! You will find hope and inspiration in these 101 heartwarming stories about counting your blessings, thinking positive, and overcoming challenges.
Get this book on Amazon | Barnes & Noble | Book Depository | iBooks
See more books recommended by
See more books written by
Jack Canfield, Mark Victor Hansen, Amy Newmark
Sources