Interview with Deepak Chhugani, founder of the Lobby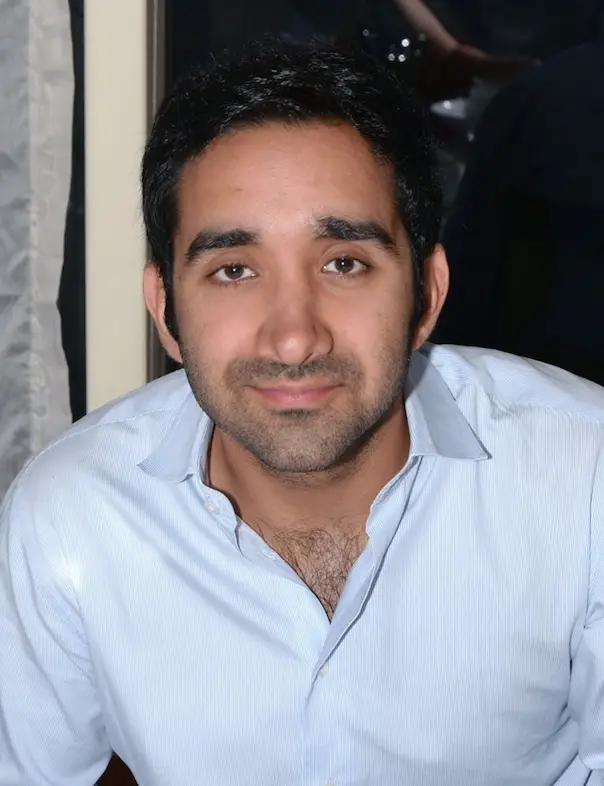 One of the things I find fascinating about books is their power to connect people. We might live in opposite corners of the world, yet discover that we deal with the same problems and find answers (or just escape) in the same books.
You'll find out in just a few seconds why I wrote this introduction.
But first, meet Deepak Chhugani, a startup founder based in NYC. His parents are Indian, but he was born in Kenya, grew up in Ecuador, and, in 2010, moved to the US to go to college.
Up until last year, Deepak's experience revolved mostly around finance. However, he couldn't give up the idea of starting his own business – an idea that's been obsessing him ever since his childhood. Eventually, last year he decided to quit his job and take his chance with entrepreneurship.
He started Legaats – a community where baby boomers and senior citizens can document and share their most important pieces of wisdom and advice to pass on to future generations.
Six months later, Deepak decided to stop pursuing it and founded something completely different, a startup that's called The Lobby.
The Lobby is a marketplace where job candidates can go straight to the source and talk 1-on-1 with employees at the top investment banks. This will help them get personalized recruiting advice and the chance to earn an employee referral.
After reading Deepak's story on Indie Hackers, I asked him if he'd like to be part of our series of interviews about books. Thankfully, Deepak said yes. But the biggest surprise came when Deepak answered all my curiosities about books, and I noticed that he was influenced by the same words that I was.
Please read on to find out more about Deepak's story, what books guided him, how they made him rethink his life and the way he makes decisions.
Estimated reading time for this interview is
13 minutes
. If you'd rather listen to it, you can do it on
iTunes
,
Google Play
or
Stitcher
.
What's your favorite book and why? Business and non-business, if possible.
I'll start with something unrelated to work; my favorite book in recent years has been Modern Romance by Aziz Ansari. It was very funny and put into perspective some very entertaining examples of generation gaps and cultural differences I've witnessed first-hand, growing up at the intersection of Asian (Indian parents), Latin American (grew up in Ecuador) and US culture (I've lived here for ~7 years now).
Was there a moment, specifically, when something you read in a book helped you? Can you tell me about it?
Most recently, I got a ton of value out of reading The Hard Thing About Hard Things by Ben Horowitz. I was wasting a lot of time making decisions, ranging from picking our company name and logo to deciding whether to raise money or try and make our company profitable.
I read this book over the course of two weekends and I came away with two main conclusions: 1) It's almost as important to be decisive as it is to make good decisions (speed in decision making is very important with startups) and 2) The only way for me to keep sane with our startup's journey is to embrace the chaos and uncertainty that comes with not knowing what's going to happen next, just that we're doing the best we can to make good decisions with the information at hand.
I made 3 or 4 important decisions almost immediately after finishing the book which helped us keep moving forward!
What books had the biggest impact on you? (perhaps changed the way you see things, dramatically changed your career path)
My two favorite work-related books are Zero to One by Peter Thiel and Outliers by Malcolm Gladwell.
Zero to One really helped me understand that in order to do unique or extraordinary things, you have to think in a very unique way. By thinking like the rest of the world, it's easy to follow what everyone else does or says and lose the ability to think individually and objectively.
Outliers by Malcolm Gladwell reinforced a very important concept for me which is that there is no such thing as an overnight success. Every person who became successful "overnight" had countless hours of deliberate & hard work before they reached a point of visible success. This book is mostly a reminder that if I want to achieve my goals, I should focus on putting my head down and trying to get a little bit better every day, instead of trying to find shortcuts.
Enjoying this interview? If you want more interesting stuff related to books & business, subscribe to our weekly newsletter. Find out more
here
.
What books would you recommend to youngsters interested in your professional path? Why? (no number limit here)
For those interested in starting their career as investment bankers like I did, I'd highly recommend reading Young Money by Kevin Roose before joining. There are tons of people who go into the industry and truly hate it, but I'd argue that reading this book and/or talking with others in the industry beforehand will prepare you for the reality of what life can be like.
I'm a big believer that if you're going to do investment banking, you should assume life is going to suck and you should really make an effort to go deep into the "banker" movie and the benefits it will bring to your career if you power through, because the alternative is to complain all day and hate every minute of your life. Young Money helped me expect the worst, but hope for the best.
For those interested in startups or technology, these are my recommendations:
– Zero to One by Peter Thiel: Will help you understand the value of unique ideas, thinking, and hopefully finding comfort in doing things that may be perceived as somewhat unusual to those around you.
– Outliers by Malcolm Gladwell and Peak by Anders Ericsson and Robert Pool: Both will give countless examples of people who've succeeded in fields from business to sports to music, with one common theme – the only way to become extraordinary at something is by putting in the hard work, over long periods of time.
– Not a book, but I'd highly recommend everyone to watch Y Combinator's How to start a startup 2014 Stanford class videos. They quite literally changed the course of my life.
– The Hard Thing About Hard Things by Ben Horowitz: One of the greatest books on management and decision making I've ever read.
– Man's Search for Meaning by Viktor Frankl: While it was hard to understand why this book would help in work, it was one of the many important readings that helped me be introspective and decide if I actually wanted to go through the hardships of starting a tech startup. There are plenty of easier ways to make money with less headaches, less disapproval from peers, among others, so it helped me figure out what I really wanted to do and find comfort in that decision.
I'm interested in finding out more about your reading habits. How often do you read? In what format?
I read a lot every day, but unfortunately, as work has become ever more intense, traditional books have taken a backseat to blogs, news, and market research. I also use Blinkist to get the summary of specific books I get recommended from mentors about specific problems I'm trying to solve in my day to day. In more specific terms, I regularly read:
– NY Times daily briefing – great summary of what's going in the world, from politics to business, to comedy (Late Night TV clips are great to get up to speed and laugh a bit).
– TechCrunch daily updates – all things tech-related.
– Every Monday, I read Garys Guide to know what's happening in the NYC tech scene.
– I try to go through my Medium and Quora daily digest as they always have articles & questions that are very useful to me, but they are also becoming harder to prioritize as things get crazier since our launch.
– Fred Wilson's blog – short, sweet, and insightful posts almost on a daily basis.
How do you make time for reading?
In college, reading some of the aforementioned resources felt like an obligation. However, as time has passed and I've had conversations with connectors, mentors, advisors, and general people where I realized I had developed strong knowledge on important subjects due to my reading, I began to see it as incredibly worth my time. As with many things in our current state of technology, I've also had to be careful as it can become easy to be over consumed with reading and information, and lose a lot of time that could be otherwise spent productively. I try to read 1-2 hours a day between the above mentioned sources and make it a habit to finish reading some of those from my inbox before the day ends.
Do you take notes or have any other technique for conquering the torrent of information?
Every time I read something that is particularly useful but don't have time to read it, I leave the tab open in Google Chrome and come back to it. After reading it, if I find it incredibly useful or relevant I will bookmark it or add it to my favorites on an app called Pocket, where I can categorize things I want to read in some distant future. For example, reading fundraising tips & articles or things about legal structures for our company are not immediately important, but I can bookmark them and come back to them when I need to work on them later.
How do you choose what books to read next?
For me books fall into two categories: work or entertainment. It is actually quite hard for me to find an entertaining book unrelated to work, which is why I think Modern Romance struck a chord. I think it has to do with it's tone and style, and the fact that Aziz Ansari is very funny.
For the rest, I'm in a stage of my career where I'm prioritizing learning things that will help our startup succeed, as there is a ton of information out there that can help us avoid mistakes and make smarter decisions. I don't read any new book unless it comes highly recommended and will be useful in the short-term. For example, I'm planning on reading Brad Feld's Venture Deals a few months before thinking of starting to fundraise.
Do you prioritize those recommended by certain people? Is there anyone that you consider a book-recommendations guru?
I absolutely prioritize books recommended by friends or certain people. I started Sapiens a few days ago, but will have to see how much time I can actually give it, as explained above!
Links where you can follow Deepak Chhugani or find out more about his/her projects:
Books mentioned by Deepak in this interview:
If you want to see more Book Collections, here's a convenient list for you: