Interesting Non-Fiction Books Coming Out in July 2019
At the beginning of every month, I put together a list of interesting books that will be released during that month and are on our radar.
I want to make it easier for you to discover new, interesting non-fiction or business books but, just to be clear, I (or any other member of The CEO Library team) haven't read or reviewed any of them – at least not at the moment when I'm writing this.
Instead, they're books curated and recommended by leaders and experts in various fields: entrepreneurs, investors, authors, managers and so on. I'm using their expertise as a filter, but it's up to you to do a minimum amount of research and decide if reading any one of these books makes sense in your particular context.
You can also check out here the lists for the previous months: the books that came out in June, May and those from April 2019.
Here we go:
July 2019 – Non-Fiction Books to Add to Your Reading List: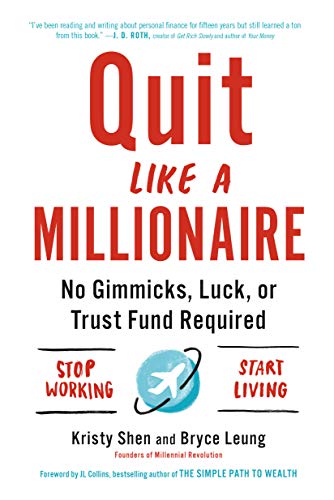 Kristy Shen and Bryce Leung are the founders of Millennial Revolution, a platform where they help others with their finances and making their travel dreams happen. They're world travelling early retirees (Shen retired at 31, with a million dollars), representing the FIRE movement – comes from Financial, Independence, Retire Early. 'Quit Like a Millionaire' is a bold guide to that kind of life: growing wealth, retiring at any age, achieving financial freedom, and living on your own terms.
This book is recommended by J. L. Collins (author of the book 'The Simple Path to Wealth', one of the clearest guides to money and investing in the US), who said that: 'This book wants you to be rich: in money, in time, and in life. You have come to the right place. Kristy and Bryce take you through the process step by step, with actionable things that you can do no matter what your age, location, background, or education.'.
Many others recommend this book, you can read here their blurbs.
This is a book about a subject that we never want to think about, although it's inevitable we'll all face it: your last days of life. It's a practical and compassionate guide to dying – and living fully until you do, written by palliative care doctor B.J. Miller and Shoshana Berger, who said that: "Our ultimate purpose here isn't so much to help you die, as it is to free up as much life as possible until you do."
"A Beginner's Guide to the End" is written to help readers feel more in control of an experience that often seems anything but under our control. It offers instructions from how to do paperwork, to navigating the healthcare system, how to break the news to your employer, how to face friends and family, and any questions you might avoid asking your doctor. It also includes advice for survivors, such as shutting down social media accounts or how to write eulogies.
Here's what author Elizabeth Gilbert said about it:
"I wish I'd had this book when I needed it. Death and dying are not subjects that many people are comfortable talking about, but it's hugely important to be as prepared as you can be—emotionally, physically, practically, financially, and spiritually. This book may be the most important guide you could have."
Tom Siebel is a Silicon Valley entrepreneur, founder and CEO of AI software platform and company C3. In his new book, he examines game-changing new technologies such as cloud computing, big data, AI and IoT, how these are disrupting business and government, and how organizations can harness them to transform into digital enterprises, with examples from Enel, 3M, Royal Dutch Shell, U.S. Department of Defense, and others.
This book is recommended by Eric Schmidt (former CEO of Google and author) and Garry Kasparov (chess GM, author, decision-making expert). Here's what Kasparov said about it:
"Digital Transformation delivers a detailed look at the big picture, explaining not only what is happening now, but what companies must do and why. Instead of being fearful, read this book and learn how human leadership, strategy, and risk-taking can make the most of it."
The lines between physical and digital worlds are becoming increasingly blurred, while 70% of digital transformations fail. Tony Saldanha is a former VP for IT and Shared Services of Procter & Gamble, who shares a five-stage model and disciplined process for executing a successful digital transformation.
At Procter & Gamble, he led operations across the world and implemented major digital changes. In his journey, he realized that the devil's in the details: lack of clear goals, a system for achieving them, checklists of questions to help you stay on track, and others.
Here's what Salim Ismail, investor, entrepreneur and Founding Executive Director of Singularity University, said about this book:
"Tony's mastery in getting digital transformation done is unsurpassed. His work at P&G is a testament to the power of exponential organizations. Why Digital Transformations Fail is an important building block of our Exponential Organizations book series specifically covering successfully scaling transformations."
Also coming out in July 2019:
Any other interesting non-fiction reads on your list for July 2019?
And here are the lists of books released in previous months: June, May and April 2019.