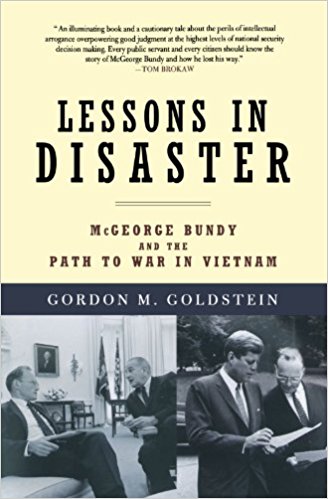 We hope you love the books people recommend! Just so you know, The CEO Library may collect a share of sales or other compensation from the links on this page.
This book has 1 recommendation
Barack Obama (Former USA President)
Fact or fiction, the president knows that reading keeps the mind sharp. He also delved into these non-fiction reads:
Age of Ambition: Chasing Fortune, Evan Osnos
Thinking, Fast and Slow, Daniel Kahneman
Moral Man And Immoral Society, Reinhold Niebuhr
A Kind And Just Parent, William Ayers
The Post-American World, Fareed Zakaria
Lessons in Disaster, Gordon Goldstein
Sapiens: A Brief History of Humankind, Yuval Noah Harari
The Fire Next Time, James Baldwin
Andy Grove: The Life and Times of an American, Richard S Tedlow
Behind the Beautiful Forevers: Life, Death, and Hope in a Mumbai Undercity, Katherine Boo
A revelatory look at the decisions that led to the U.S. involvement in Vietnam, drawing on the insights and reassessments of one of the war's architects
"I had a part in a great failure. I made mistakes of perception, recommendation and execution. If I have learned anything I should share it."
These are not words that Americans ever expected to hear from McGeorge Bundy, the national security adviser to Presidents John F. Kennedy and Lyndon B. Johnson. But in the last years of his life, Bundy—the only principal architect of Vietnam strategy to have maintained his public silence—decided to revisit the decisions that had led to war and to look anew at the role he played. He enlisted the collaboration of the political scientist Gordon M. Goldstein, and together they explored what happened and what might have been. With Bundy's death in 1996, that manuscript could not be completed, but Goldstein has built on their collaboration in an original and provocative work of presidential history that distills the essential lessons of America's involvement in Vietnam.
Drawing on Goldstein's prodigious research as well as the interviews and analysis he conducted with Bundy, Lessons in Disaster is a historical tour de force on the uses and misuses of American power. And in our own era, in the wake of presidential decisions that propelled the United States into another war under dubious pretexts, these lessons offer instructive guidance that we must heed if we are not to repeat the mistakes of the past.
Get this book on Amazon | Barnes & Noble | Book Depository | iBooks
See more books recommended by
See more books written by
Sources