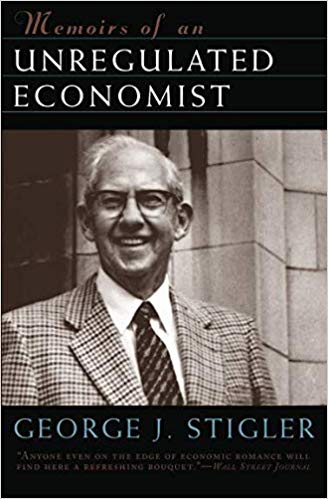 We hope you love the books people recommend! Just so you know, The CEO Library may collect a share of sales or other compensation from the links on this page.
This book has 1 recommendation
Eric Weinstein (Managing Director/Thiel Capital)
Folks frequently ask "What are the books that changed your life?" If I tell them, they are usually radically disappointed. I find that curious. I just cleared out of an office, and these are 4 shelves of spines of books that mattered enough to me to bring home. So here they are.
In this witty and modest intellectual autobiography, George J. Stigler gives us a fascinating glimpse into the little-known world of economics and the people who study it. One of the most distinguished economists of the twentieth century, Stigler was awarded the Nobel Prize in 1982 for his work on public regulation. He also helped found the Chicago School of economics, and many of his fellow Chicago luminaries appear in these pages, including Fredrich Hayek, Milton Friedman, Ronald Coase, and Gary Becker. Stigler's appreciation for such colleagues and his sense of excitement about economic ideas past and present make his Memoirs both highly entertaining and highly educational.
Get this book on Amazon | Barnes & Noble | Book Depository
See more books recommended by
See more books written by
Sources