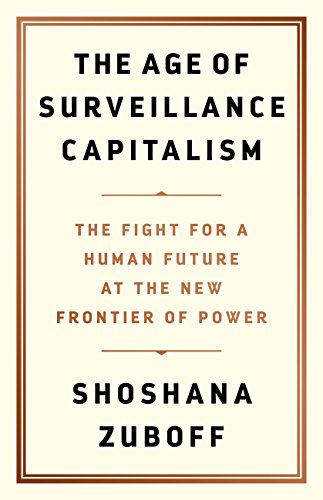 We hope you love the books people recommend! Just so you know, The CEO Library may collect a share of sales or other compensation from the links on this page.
This book has 2 recommendations
Naomi Klein (Author)
From the very first page I was consumed with an overwhelming imperative: everyone needs to read this book as an act of digital self-defense. With tremendous lucidity and moral courage, Zuboff demonstrates not only how our minds are being mined for data but also how they are being rapidly and radically changed in the process. The hour is late and much has been lost already—but as we learn in these indispensable pages, there is still hope for emancipation.
Nicholas Carr (Author)
Whatever its imperfections, The Age of Surveillance Capitalism is an original and often brilliant work, and it arrives at a crucial moment, when the public and its elected representatives are at last grappling with the extraordinary power of digital media and the companies that control it. Like another recent masterwork of economic analysis, Thomas Piketty's 2013 Capital in the Twenty-First Century, the book challenges assumptions, raises uncomfortable questions about the present and future, and stakes out ground for a necessary and overdue debate. Shoshana Zuboff has aimed an unsparing light onto the shadowy new landscape of our lives. The picture is not pretty.
The challenges to humanity posed by the digital future, the first detailed examination of the unprecedented form of power called "surveillance capitalism," and the quest by powerful corporations to predict and control our behavior.
In this masterwork of original thinking and research, Shoshana Zuboff provides startling insights into the phenomenon that she has named surveillance capitalism. The stakes could not be higher: a global architecture of behavior modification threatens human nature in the twenty-first century just as industrial capitalism disfigured the natural world in the twentieth.
Zuboff vividly brings to life the consequences as surveillance capitalism advances from Silicon Valley into every economic sector. Vast wealth and power are accumulated in ominous new "behavioral futures markets," where predictions about our behavior are bought and sold, and the production of goods and services is subordinated to a new "means of behavioral modification."
The threat has shifted from a totalitarian Big Brother state to a ubiquitous digital architecture: a "Big Other" operating in the interests of surveillance capital. Here is the crucible of an unprecedented form of power marked by extreme concentrations of knowledge and free from democratic oversight. Zuboff's comprehensive and moving analysis lays bare the threats to twenty-first century society: a controlled "hive" of total connection that seduces with promises of total certainty for maximum profit--at the expense of democracy, freedom, and our human future.
With little resistance from law or society, surveillance capitalism is on the verge of dominating the social order and shaping the digital future--if we let it.
Get this book on Amazon | Barnes & Noble | Book Depository | iBooks
See more books recommended by
See more books written by
Sources