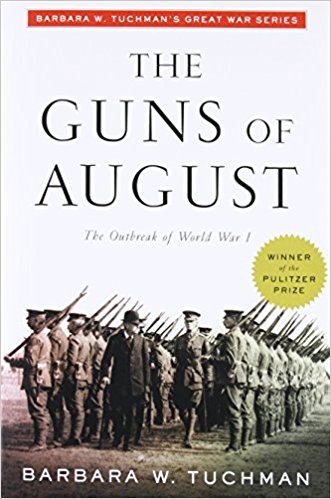 We hope you love the books people recommend! Just so you know, The CEO Library may collect a share of sales or other compensation from the links on this page.
This book has 2 recommendations
Erik Martin (VP of Member Engagement/WeWork)
This book started my obsession with WWI, illustrating how drastically the world went from interrelated monarchies and cavalry charges to chemical warfare between modern nation states. If you want to see what disruption looks like, there's no greater period in human history.
Matt Calkins (CEO/Appian)
The best way to understand how the world resolves its conflicts and its tensions is by looking at how a conflict that has been studied thoroughly, like World War I, unfolded and resolved. Business is like this too. If anyone were to ever get to the heart of Coke vs. Pepsi, they would see a parade of mistakes in the same way World War I looks in retrospect—so many ways you could have done better.
War pressed against every frontier. Suddenly dismayed, governments struggled and twisted to fend it off. It was no use . . .
Barbara Tuchman's universally acclaimed, Pulitzer prize-winning account of how the first thirty days of battle determined the course of the First World War is to this day revered as the classic account of the conflict's opening. From the precipitous plunge into war and the brutal and bloody battles of August 1914, Tuchman shows how events were propelled by a horrific logic which swept all sides up in its unstoppable momentum.
Barbara Tuchman achieved prominence as a historian with The Zimmerman Telegram and international fame with the Pulitzer-Prize winning The Guns of August. She is also the author of The Proud Tower, Stilwell and the American Experience in China (also awarded the Pulitzer Prize), A Distant Mirror and The March of Folly. She died in 1989. The Proud Tower and The Zimmerman Telegram are published by Penguin.
Get this book on Amazon | Barnes & Noble | Book Depository | iBooks
See more books recommended by
See more books written by
Sources