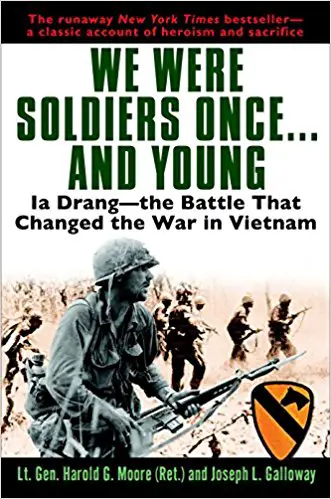 We hope you love the books people recommend! Just so you know, The CEO Library may collect a share of sales or other compensation from the links on this page.
This book has 1 recommendation
Stephane Grand (Managing Partner/S.J. Grand Financial and Tax Advisory)
When a look back at my career path, it is the one of an entrepreneur. I have built various businesses, from accounting and financial advisory firms to tech and security businesses. I have also spent most of my adult life in China, a country that is quite hostile to foreigners and very unfair. I have accepted to suffer the hardships of building my business without any investment from anybody, and stick very firmly to my values. I would recommend young people to read about adventure, hardships, and moral choices. Of course, it would be important to also read about the drivers of our humanity, hence the motley list below:
[...]
We were soldiers once, and young … because entrepreneurship is infantry combat.
In November 1965, some 450 men of the First Battalion, Seventh Cavalry, under the command of Lt. Col. Harold Moore, were dropped into a small clearing in the Ia Drang Valley. They were immediately surrounded by 2,000 North Vietnamese soldiers. Three days later, only two and a half miles away, a sister battalion was brutally slaughtered. Together, these actions at the landing zones X-Ray and Albany constituted one of the most savage and significant battles of the Vietnam War. They were the first major engagements between the US Army and the People's Army of Vietnam.
How these Americans persevered—sacrificing themselves for their comrades and never giving up—creates a vivid portrait of war at its most devastating and inspiring. Lt. Gen. Moore and Joseph L. Galloway—the only journalist on the ground throughout the fighting—interviewed hundreds of men who fought in the battle, including the North Vietnamese commanders. Their poignant account rises above the ordeal it chronicles to depict men facing the ultimate challenge, dealing with it in ways they would have once found unimaginable. It reveals to us, as rarely before, man's most heroic and horrendous endeavor.
Get this book on Amazon | Barnes & Noble | Book Depository | iBooks
See more books recommended by
See more books written by
Harold G. Moore, Joseph L. Galloway
Sources