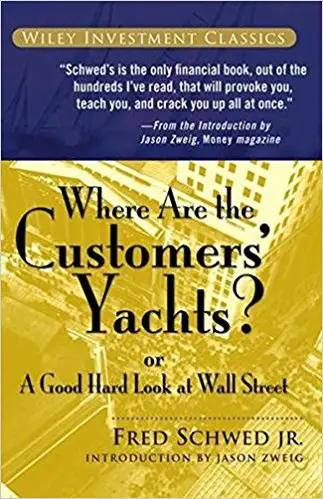 We hope you love the books people recommend! Just so you know, The CEO Library may collect a share of sales or other compensation from the links on this page.
This book has 1 recommendation
Warren Buffett (CEO/Berkshire Hathaway)
The funniest book ever written about investing, Warren Buffett proclaimed in his 2006 shareholder letter, it lightly delivers many truly important messages on the subject.
Humorous and entertaining, this book exposes the folly and hypocrisy of Wall Street. The title refers to a story about a visitor to New York who admired the yachts of the bankers and brokers. Naively, he asked where all the customers' yachts were? Of course, none of the customers could afford yachts, even though they dutifully followed the advice of their bankers and brokers. Full of wise contrarian advice and offering a true look at the world of investing, in which brokers get rich while their customers go broke, this book continues to open the eyes of investors to the reality of Wall Street.
Get this book on Amazon | Barnes & Noble | Book Depository | iBooks
See more books recommended by
See more books written by
Sources