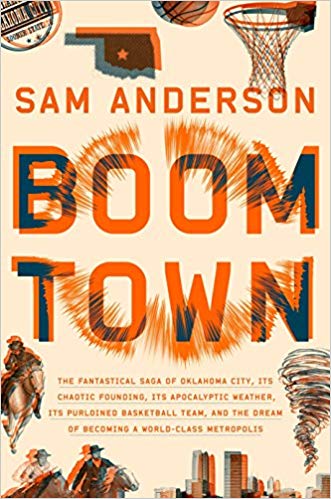 We hope you love the books people recommend! Just so you know, The CEO Library may collect a share of sales or other compensation from the links on this page.
This book has 1 recommendation
Bill Walton ( Basketball Player/TV Sportscaster/Author)
Sam Anderson is a visionary artist who sees what others can't; he's a master wordsmith who creates beauty and light from confusion and plunging darkness; he's our tour guide to a better tomorrow because he understands a complex and foundational history that is our launching pad to new and unexplored universes.
Award-winning journalist Sam Anderson's long-awaited debut is a brilliant, kaleidoscopic narrative of Oklahoma City--a great American story of civics, basketball, and destiny.
Oklahoma City was born from chaos. It was founded in a bizarre but momentous "Land Run" in 1889, when thousands of people lined up along the borders of Oklahoma Territory and rushed in at noon to stake their claims. Since then, it has been a city torn between the wild energy that drives its outsized ambitions, and the forces of order that seek sustainable progress. Nowhere was this dynamic better realized than in the drama of the Oklahoma City Thunder basketball team's 2012-13 season, when the Thunder's brilliant general manager, Sam Presti, ignited a firestorm by trading future superstar James Harden just days before the first game. Presti's all-in gamble on "the Process"—the patient, methodical management style that dictated the trade as the team's best hope for long-term greatness—kicked off a pivotal year in the city's history, one that would include pitched battles over urban planning, a series of cataclysmic tornadoes, and the frenzied hope that an NBA championship might finally deliver the glory of which the city had always dreamed.
Boom Town announces the arrival of an exciting literary voice. Sam Anderson, former book critic for New York magazine and now a staff writer at the New York Times magazine, unfolds an idiosyncratic mix of American history, sports reporting, urban studies, gonzo memoir, and much more to tell the strange but compelling story of an American city whose unique mix of geography and history make it a fascinating microcosm of the democratic experiment. Filled with characters ranging from NBA superstars Kevin Durant and Russell Westbrook; to Flaming Lips oddball frontman Wayne Coyne; to legendary Great Plains meteorologist Gary England; to Stanley Draper, Oklahoma City's would-be Robert Moses; to civil rights activist Clara Luper; to the citizens and public servants who survived the notorious 1995 bombing of the Alfred P. Murrah federal building, Boom Town offers a remarkable look at the urban tapestry woven from control and chaos, sports and civics.
Get this book on Amazon | Barnes & Noble | Book Depository | iBooks
See more books recommended by
See more books written by
Sources