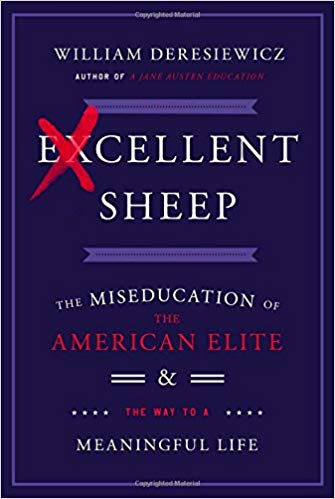 We hope you love the books people recommend! Just so you know, The CEO Library may collect a share of sales or other compensation from the links on this page.
This book has 1 recommendation
Bryan Callen (Co-Host/The Fighter and the Kid)
There's a guy who I just had on my podcast, Mark Deresiewicz, who wrote a book called Excellent Sheep. He was a Yale professor, and took a look at the essentially what was wrong with higher education, at these elite institutions, primarily places like Amherst and Yale and Harvard. And one of the things he said is that we're breeding excellent sheep. You've got 31 flavors of vanilla. These kids are so obsessed with essentially achievement for its own sake, not fulfillment or meaning, but rather achievement for its own sake, so they can get into a great – become rich doctors or lawyers, or consultants or investment bankers. And even that becomes an extension of what they've been doing their whole life, which was hey, I want to please my boss, jump through these loopholes and be in an elite person. And it's an interesting book. But one of the things he talked about was that these elite institutions are – there's a feeder system of about 100 high schools in this country, about 100 high schools, and that's it, that provide students to these universities. So something like QuestBridge is desperately needed, so that we can create an equality of opportunity. That's always what it is, right?
A groundbreaking manifesto for people searching for the kind of insight on leading, thinking, and living that elite schools should be—but aren't—providing.
As a professor at Yale, Bill Deresiewicz saw something that troubled him deeply. His students, some of the nation's brightest minds, were adrift when it came to the big questions: how to think critically and creatively, and how to find a sense of purpose.
Excellent Sheep takes a sharp look at the high-pressure conveyor belt that begins with parents and counselors who demand perfect grades and culminates in the skewed applications Deresiewicz saw firsthand as a member of Yale's admissions committee. As schools shift focus from the humanities to ""practical"" subjects like economics and computer science, students are losing the ability to think in innovative ways. Deresiewicz explains how college should be a time for self-discovery, when students can establish their own values and measures of success, so they can forge their own path. He addresses parents, students, educators, and anyone who's interested in the direction of American society, featuring quotes from real students and graduates he has corresponded with over the years, candidly exposing where the system is broken and clearly presenting solutions.
Get this book on Amazon | Barnes & Noble | Book Depository | iBooks
See more books recommended by
See more books written by
Sources