Home — Collections — Learning How to Learn: Books for Entrepreneurs who Want to Master this Meta-Skill
Learning How to Learn: Books for Entrepreneurs who Want to Master this Meta-Skill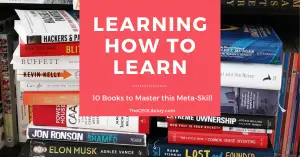 One year ago, after realizing that the industry I've previously worked in for almost decade had nothing in common with my personal values, I decided it's time to start from scratch in a new domain. It might sound cliche, but, nonetheless, it's true. I'm an introvert who values honesty, transparency, and hates drama or conflict – almost a 0 overlap with the music business industry, where I've been trying to squeeze myself into, to the point of getting into the most miserable and frustrated state I've ever experienced.
That's when I started to build The CEO Library, an online project for curious minds, at the intersection of books, entrepreneurship and personal development.
This is not the first time I'm diving into a completely new field. A few years ago, I started working for a cybersecurity startup as a content marketer and learned its insights from 0. I've also helped a local running community thrive and grow – I might be running on mountain trails in my free time, but I surely knew nothing about the local sports business.
And I'm sure this cycle will repeat itself in the future – I'll start from 0 and will need to reinvent myself over and over again, in multiple other fields. Adaptability will become more and more vital in the future of work.
It's the reason why I'm always setting aside time to learn new things. Our brain is like a muscle – if it's not used, it gets atrophied, so I want to keep it trained.
Let's look at it from a different angle. I hope we're all on the same page when I say that future businesses will require completely different skills and knowledge. What skills exactly? That I cannot pinpoint exactly – nobody can – there's no way of knowing.
Jobs exist today that we'd never even heard of a decade ago: app developer, social media manager, blockchain ICO expert, driverless car engineer, and so on. There's a massive war for talent going on since it's challenging to find and hire people with the right skills and knowledge to fill the vacant roles. Children who are currently in schools will most likely end up working in a field that's not even on our radar.
Also, consider the half-life of facts: facts don't remain true over the years, as they're replaced by new discoveries that contradict what we thought we previously knew. Most of what we learned in school is rendered obsolete.
So how we can survive and thrive in the modern environment of accelerating change? How can we keep up with the pace?
Well, you know the saying "give a man a fish and you feed him for a day; teach a man to fish and you feed him for a lifetime"?
This old proverb emphasis the importance of teaching a person how to do something for themselves – instead of doing it for them, this approach will be more efficient in the long term.
However, there's a superior stage to learning. It's the ability to learn how to learn.
This is the ultimate meta-skill, especially as an entrepreneur – if we master this, there's almost nothing that will stop us from achieving our goals in life, as we can apply it in every field that interests us.
If we're able to adapt, identify what new skills are needed, learn and master them quickly, we'll surely thrive in the new economy.
So how do we start from scratch in a completely new field?
How do we know what sources are trustworthy?
How do we focus, get into a state of flow and practice in a chaotic, noisy environment?
How do we keep an open mind and how do we unlearn things?
And, above all, how do we reach mastery in a short time? Especially if we want to dominate in the fast-paced modern environment!
This is what the books below are about. Each and every one of them is about learning how others learned and mastered new fields. They'll help us understand how to learn, what tactics and techniques will help us become better at anything.
Do pair them with autobiographies and how-to books written by people who've actually done what you want to do. No fluffy, bloated books are worthy of our time. But you also need to know when to stop studying and start applying. Learning about someone else's experiences without getting hands-on experience becomes procrastination.